Course Code
uml2itmprep
Duration
14 hours (usually 2 days including breaks)
Requirements
Good knowledge of any object-oriented language, basic knowledge of UML. Please see the OCUP2 UML 2.5 Certification - Foundation Exam Preparation Course.
Overview
Audience:
Developers, programmers, business analysts, project managers, software architects, testers, people responsible for documentation or anyone involved in the software development process.
Objectives:
Prepares you to work with a broad range of UML elements
Teaches you how to create complex UML models
Prepares you to become a qualified senior member of a UML Development Team.
Certification
"OMG created OCUP to provide a certification, an objective indication, of your knowledge of UML, OMG's Unified Modelling Language.
This will benefit you by giving you an important credential to present to employers and clients. It also benefits companies looking for skilled UML practitioners like you, by giving them a basis for making hiring and promotion decisions."
From: https://www.omg.org/ocup-2/
OCEB Exam Preparation Training, OCEB Sample Questions, OCEB2 Exam Preparation Course, OCEB Certification Training
The Exams and Related Courses
There are three OCUP2 Exams and three courses preparing you to each exam:
Foundation, Intermediate and Advanced.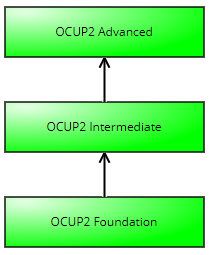 Passing Score on OCUP2 Foundation is a prerequisite to take the Intermediate exam.
Passing Score on OCUP2 Intermediate is a prerequisite to take the Advanced exam.
Fees
The exams fees are NOT included in the course price. Each exam costs $210 (or equivalent in local currency).
OCUP Exam Preparation Training, OCUP Sample Questions, OCUP2 Exam Preparation Course, OCUP Certification Training
Course Outline
Basic Structure
Backus-Naur Form (BNF)
Namespaces
Types & Multiplicity
Constraints
Dependencies
Time
Intervals
Packages
Information Flows
Classification
Classifiers
Properties
Operations
Generalization Sets
Instances
Structured Classifiers
Structured Classifiers
Classes
Associations
Collaborations
Components
Encapsulated Classifiers
Components
Deployments
Artifacts
Nodes
Common Behavior
Signals
Receptions
Behaviors
Events
Activities and Actions
Activities
Control Nodes
Object Nodes
Activity Groups
Actions
Invocation Actions
Structured Actions
Expansion Regions
Interactions
Interactions
Lifelines
Messages
Fragments
Interaction Uses
Sequence Diagrams
Communication Diagrams
State Machines and Use Cases
Statemachine topics
Protocol Statemachines
Interfaces
Use Cases
I liked the application examples and specific answers to the questions I asked the most (what really happens in a few trainings)
Paweł Chernik
Machine Translated
way of conducting, selection of examples
Mariusz Pietrzak - Comarch SA
Machine Translated
way of conducting, knowledge and the ability to communicate it
Magdalena Lesniak - Comarch SA
Machine Translated
Related Categories
Related Courses